/
40th Anniversary of Each Day a New Beginning: Daily Meditations for Women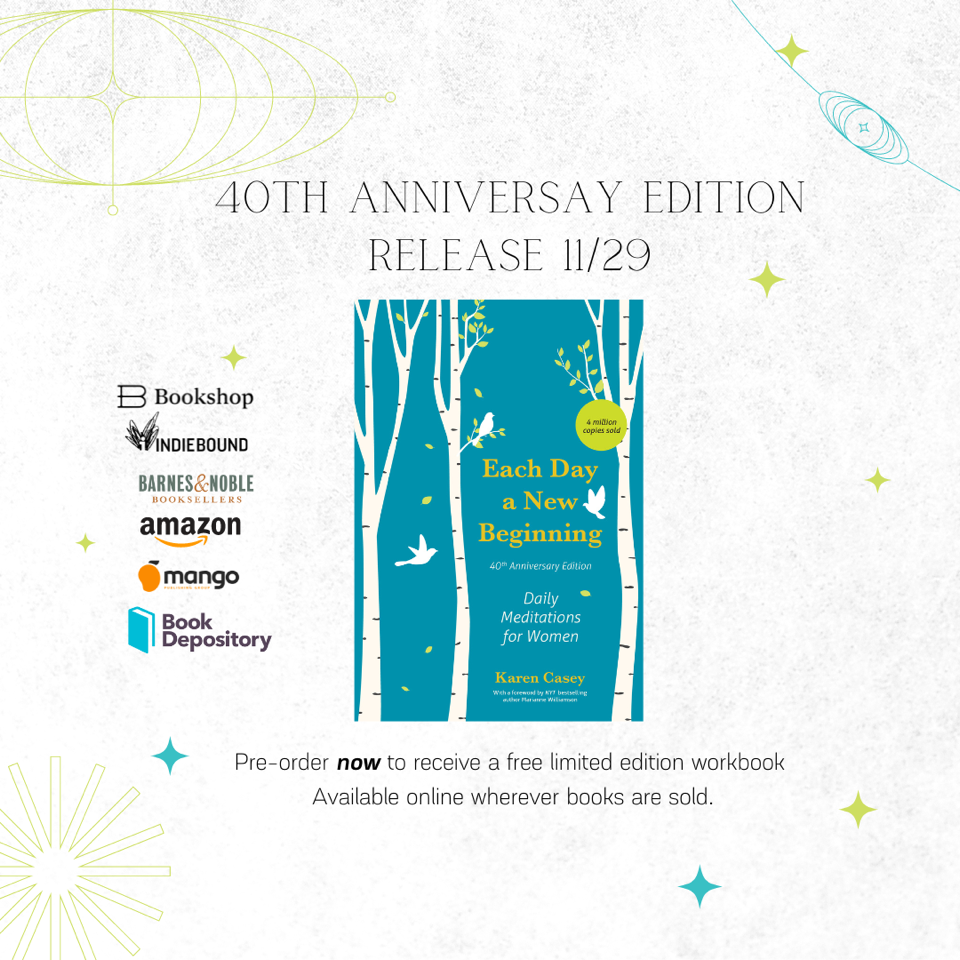 Time to say Hello again
Hi friends,
Here it is, more than midway through 2022, and I am finally taking a few moments to connect with you here on my website. Hopefully, many of you have been following my posts over the last many months on Facebook. I haven't been silent. I guess age has played a part in my absence from this website. Frankly, and I apologize for this, I forget that I have more than one way to reach out to all of you. So here I am today, asking for your forgiveness. You have not been forgotten and I have spent this past week or so updating my website. Frankly, it had gotten very overlooked and many things needed to be changed. So I have been hard at work.
I guess that's the good news in all of this. We are never really done, are we? I surely feel, even at 83,(gulp) that I have much more to say and write before I call it a day. And it's my hope that you will be present every step, in fact every word of my journey.
The really big news of this post is that the 40th Anniversary Edition of my first book: Each Day A New Beginning, which was published in 1982, will be released in December of 2022. It truly boggles my mind that this book is 40 years old. However, when I stop to think that I have written an additional 29 books since it was published, it makes sense. I haven't been letting grass grow under my feet, as they say. My 46 years in AA have been fruitful in more ways than one.
I have maintained continuous sobriety, had work to do that fulfilled me, met hundreds of thousands of you while "out there" doing workshops and talks, and have lived a truly blessed life with a husband who shares this wonderful journey too. We have traveled this road together for 45 years and that's not bad for a couple of drunks. haha. It's my hope, that even though we have aged and many things unexpectedly fell across our path, challenges that we hadn't counted on, that we have many more years to travel together too. But of course, what will be, will be. We will, with the help of our spiritual beliefs, handle whatever the future offers us. And I do mean offers us. Everything that comes our way, and your way too, is the next perfect opportunity to invite the God of your understanding in to the experience to help you handle it. And isn't that the icing on the cake.
Thanks for being here today. You will hear more from me. Here and on Facebook too. As I said already, I am not done. You haven't heard the last from me yet!
Love to each of you. And take a moment today to be extra kind to someone who isn't expecting it. That's the gift we can each so easily offer that will really make a difference in this world we share.
Karen
August 30, 2022