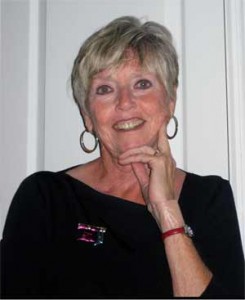 Karen Casey, Ph.D., a Naples, FL resident since 1991, published Each Day a New Beginning, her first book, in 1982. This daily meditation book for women in recovery has sold more than 3 million copies. The 25-year Anniversary edition of Each Day a New Beginning was released in August, 2006. It was closely followed by The Promise of a New Day, in 1983, another daily meditation book for both men and women in search of serenity. It has sold more than 1.5 million copies. Following on the heels of these two books, Karen has written 27 additional books.  Let Go Now: Embracing Detachment her seminal book for codependents was published in 2010.  Peace A Day At a Time, was published in February of 2011.  Her memoir, My Story to Yours, which was published as an ebook and available on amazon, along with Hazelden, and  was available as a book too in October of 2011.   Her  book  Getting Unstuck, a workbook that is a companion to Change Your Mind and Your Life will Follow was published  fall of 2012.  Her book: The Good Stuff, a book detailing the positive aspects of growing up in dysfunctional families, (there are positives galore!), was published in October, 2013.  Living Long, Living Passionately: 75 ways to bring peace to your life, was published in 2015. And Karen just completed a book of 52 essays to complement A Course in Miracles. this latest book was published in September 2016. It's title is: 52 Ways to Live the Course in Miracles. She is not done writing, however. Keep watching the book section to see what's new. And keep checking on amazon.com too.
Karen is married, a grandmother, a frequent, though mediocre golfer, and an avid bridge player. She and her husband, Joe, own a home on Prior Lake which is adjacent to Minneapolis, and they  built a log cabin outside of Lafayette, Indiana which is her home town about 15 years ago.  It is currently thoroughly enjoyed by Karen's grand niece, Hayley, a realtor in Lafayette.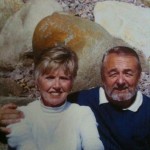 Karen and Joe sold their Harleys a few years ago. It was a hard decision. Karen loved the freedom of the ride, but lost a friend on a Harley a few years ago and Joe was nearly creamed on his bike in Sturgis. It simply seemed like a good time to let them go. They have not lost the desire for adventure, however, and Joe bought a small two-seater Piper Pacer airplane which they flew all over the country. Some might say it's no safer than motorcycles but at least you don't have to fight for space in the air like a Harley rider has to fight with cars and trucks on the road. Joe just finished building his second airplane. The first homebuilt was an electric glider that he built with a friend in Naples.  The RV9 that he finished  this fall was a long 6 year project. He is eager for some time off!
But his time off was short-lived. Karen and Joe got Nellie, a yellow lab puppy in the summer of 2016. she is now 18 months old, a dear addition to our family, and extremely smart and well-behaved too. I am a proud parent. It's Joe's intention to get her fully trained to go into nursing homes and schools. I know it will make them both happy.
Karen's love of writing began in elementary school but it lay dormant for many years. When she began working on her Ph.D. at the University of Minnesota, where she taught for a number of years, writing once again became her passion. Karen is also passionate about helping others in Twelve Step support groups where her own recovery from addictions began four decades ago.
She is also on the conference/workshop circuit and you can see where she will be in the coming months in the events section. If you or a group you represent want to plan a workshop with Karen, she can be reached by e-mail: karen@womens-spirituality.com.  She looks forward to working with you.